Kamaru Usman vs Colby Covington was one of the most awaited fights in the UFC this year. Both fighters had a win-loss record of 15-1 coming into this fight. Kamaru and Colby fought for nearly 5 rounds. Kamaru hit Colby with the jab that broke his jaw in the 3rd round. Colby fought from 3rd round onwards with the broken jaw and the fight was stopped before the end of the 5th round as a TKO(Technical Knock Out). Usman was asked about his victory to which he replied: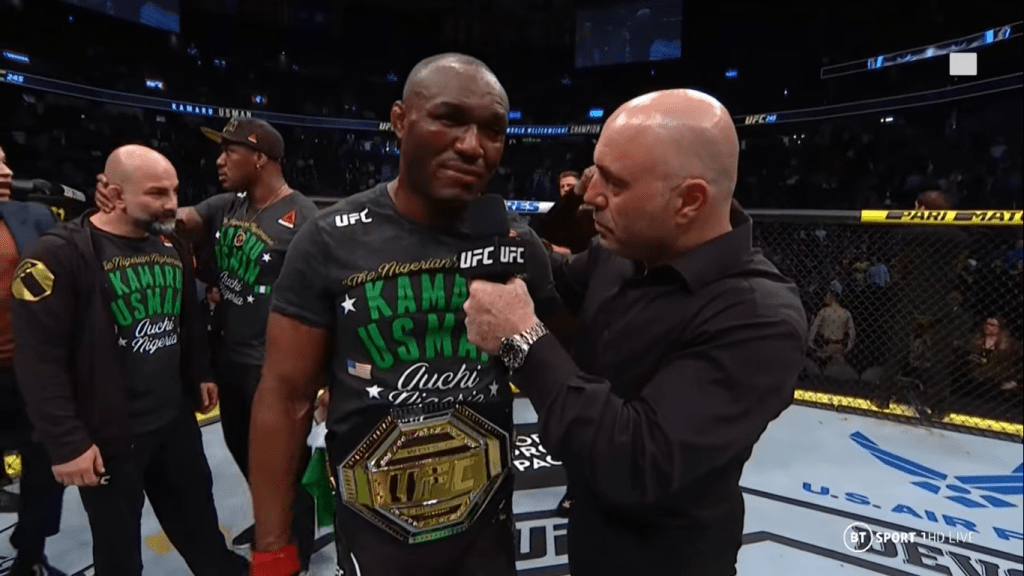 This one is not for me, it is for the whole entire world right now.
When asked about the all the trash talk that happened and whether it was difficult to maintain his composure, Kamaru replied:
Absolutely not, I heard all week all month since the fight got signed, everyone was like 'Oh Colby is in his head, he is going to gas out fighting emotional'. I am telling you guys right now, the reason why I am the best in the world is because my mind is stronger than everyone in the division.

Kamaru Usman on beating Colby Covington
FIGHT REACTION
Copyright Disclaimer under section 107 of the Copyright Act 1976, allowance is made for "fair use" for purposes such as criticism, comment, news reporting, teaching, scholarship, education and research.