Slash is best known as the lead guitarist for the hard rock band Guns n Roses with whom he achieved great fame and success. Their debut album "Appetite for Destruction" is the best selling debut album of all time. Slash joined Guns N' Roses in 1985 after playing for a number of bands like Tidus Sloan, Road Crew etc.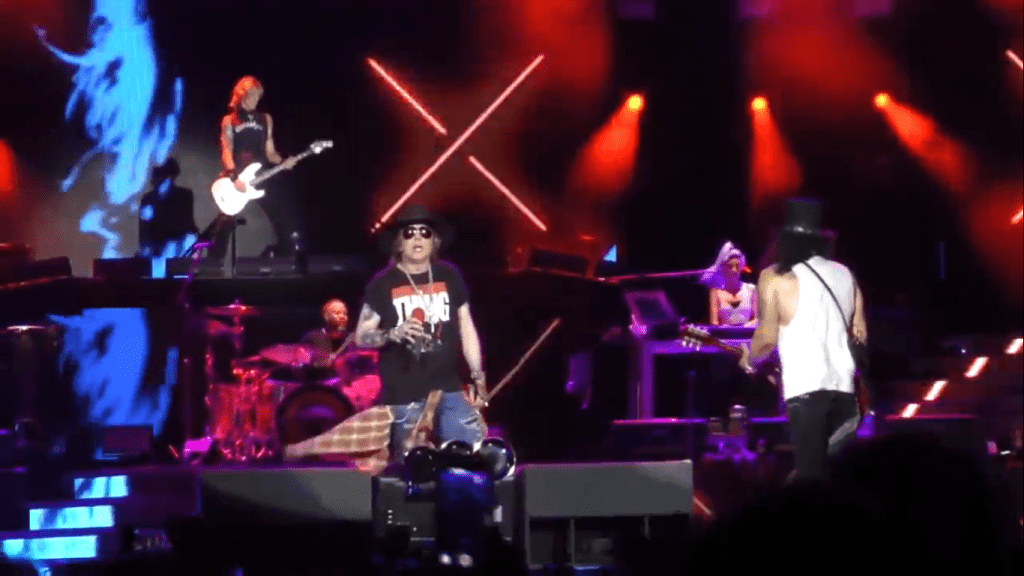 Slash left Guns N' Roses in 1996 and didn't return until almost 20 years later. In an interview, he was asked whether there was a moment when he felt like the magic or the chemistry was still present when he reunited with Axel and Duff, to which he replied-
It started with rehearsal. It started out with Duff and I, and Frank and Richard and Izzy and just getting back into the group after 20 years. So we got that going and Duff and I have a very definite chemistry that happens right after that, but when Axel showed up for rehearsal and we started doing the set, it was one of those very palpable kind of feelings of the three of us together and just what happens when that happens. We didn't talk about anything but it was something that I was very aware of. I was like wow.

Slash
Slash also spoke about a song that he recorded with Chester Bennington-
I'd forgotten about it. When I was doing all the different singers record (it doesn't have a title), one of the things that I wrote, I thought you know, Chester would be great and so when he came down to this little garage and I was using this guy's studio and the engineer, his name is Chris, he recorded what Chester's saying and he wrote this lyric called the devil or a devil I think it is about and it was really very poignant lyric and it was very self directed you know, but he didn't work out to release it because of record company red tape, so it just sort of went away and I forgot all about it and so just recently Chris called me up and he goes yeah you should check this out, I had this recording of you and Chester. So he sent it to me and I sent it to his family and it was just cool to hear it and the lyrics are actually very open about the frame of mind that he was in at the time and stuff and having you know what happened with him, its sort of like you hear those lyrics or we are listening to those lyrics and its like oh wow.
So, Slash had a recording with Chester that we have not heard yet. Slash performed with Guns N' Roses a couple of times in the Not in This Lifetime….Tour ever since the reunion and will perform in the future too. We hope he produces more music for us to listen to.
* Copyright Disclaimer under section 107 of the Copyright Act 1976, allowance is made for "fair use" for purposes such as criticism, comment, news reporting, teaching, scholarship, education and research.