Guns N Roses is one of the greatest rock bands of all time. They hold the record for the best selling debut album of all time 'Appetite for Destruction' and are known for hit songs like 'Welcome to the Jungle', 'November Rain' etc.
So, how was the band formed?
Hollywood Rose Formation
Izzy Stradlin and Axl Rose knew each other for a long time. They were friends growing up and studied in the same school. Izzy first met Axl in the Jefferson high school in mid 70s. They both were from Lafayette in Indiana. Izzy knew he wanted to be a part of a rock band in future and felt that Axl could be the front man. The band Hollywood Rose was formed with Izzy, Axl and Chris Webber intially in 1983. Chris Webber had been introduced to Izzy at the parking lot of Rainbow bar and Grill by friend Tracii Guns earlier.
Road Crew Formation
Meanwhile the band Road Crew was formed by Slash, Steven Adler and Duff McCagan around the same time. Steven Adler was living in Hollywood and at Bancroft Junior High, he befriended Slash when Slash came to help him after a skate boarding accident. Slash and Adler became good friends after that. Adler went back to the San Fernando Valley where he stayed with his parents and learnt to play drums. He came back to Hollywood formed Road Crew with Slash. They were later joined by Duff McCagan who responded to their advertisement in the newspaper looking for a bassist. This was happening in 1983.
Road Crew was looking for a singer and carried out auditions, but were unable to find someone. They disbanded with no releases as they had no singer to fit their purpose.
Now, Hollywood Rose was doing live shows and they were joined by several other members like Rick Mars, Andre Troxx, etc. Johnny Kreis was the drummer for Hollywood Rose and he was the only consistent member along with Axl, Izzy and Chris.
Chris Webber and Johnny Kreis leave Hollywood Rose
In 1984, they were appearing for the show at Music Machine and during the show Chris accidently hit Axl with the headstock of his guitar. Axl was pretty annoyed and fired Chris eventually. Chris was replaced by Slash and Johnny Kreis was replaced by Steven Adler.
Slash first meeting with Axl and Izzy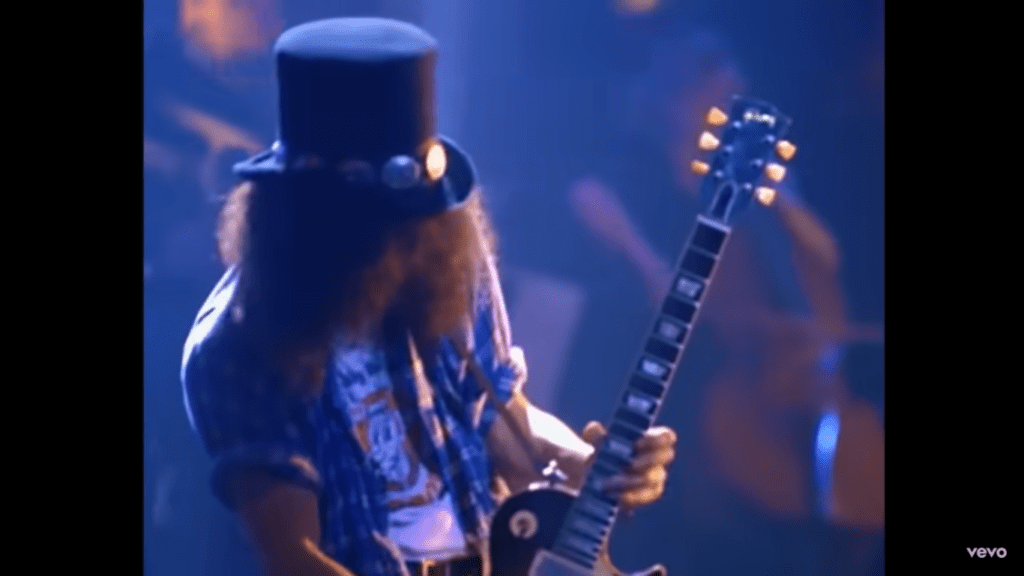 Slash recalls meeting Axl and Izzy for the first time. He saw their advertisement in 'The Recycler' and decided to meet them with his friend Adler. They first went to the house and met at the back room. Slash recalls that nothing happened during that meeting. Slash saw Axl again at a barbeque joint called Harry's open pit barbeque in Sunset and Crescent Heights. Slash didn't speak to him but he recognized him. Later on, Steven Adler took Slash to a place called Gazzarri's to check out a group because supposedly they had a really good singer and the singer turned out to be Axl.
Hollywood Rose is disbanded and Axl joins L.A. Guns eventually forming Guns N Roses
Izzy was upset at the firing of Chris and left the group when Slash first came to rehearse with them. The group played a few more shows and eventually disbanded. Izzy was staying with Tracii Guns who was part of the band called L.A. Guns. They needed a new vocalist and Izzy suggested Axl to Tracii. Axl joined L.A. Guns as the vocalist and got into an argument with the band's manager who fired him. The same night Axl got fired, they decided to form a new band called Guns N Roses. Izzy was called to be a part of this band and he joined. Guns N Roses was initially the label they were going to release their music on and decided to keep it as their band name. The initial members were Axl, Izzy, Tracii, Gardener and Beich.
Their first show was promoted as ' LA Guns and Hollywood Rose present Guns N Roses' on March 26 1985. The drummer Beich was replaced by Duff McKagan after this show. Later on, Axl and Tracii got into an argument and Tracii was eventually replaced by Slash. Gardener quit soon after that and was replaced by Steven Adler. So, then eventually the lineup was formed which consisted of Izzy, Axl, Slash, Steven and Duff. So that is how the band Guns N Roses was formed.